SimpleVoIP: Mobile Softphone App User Guide
---
Activate Your Service
Ask your account admin to request activation of the mobile app services for you.
You will receive a welcome email with instructions, download links and your credentials and QR codes to set up service.


Search the Apple App Store or Google Play Store for "SimpleVoIP Mobile" and install the app to your phone or tablet with cellular service.


DirectLinks:
Android: https://play.google.com/store/apps/details?id=us.simplevoip.svapp.android

iOS: https://apps.apple.com/us/app/simplevoip-mobile/id1504733970



To log in, tap the "Scan QR" icon on the main screen and scan the QR code in the welcome email. If you received the email on your device you can also click the QR code to open the app and fill in your credentials.

How To Use The SimpleVoIP Mobile App
Making a Call
Tap the KEYPAD icon, dial a number (internal extension or 10 digit phone number) and click the orange phone icon on the bottom to dial.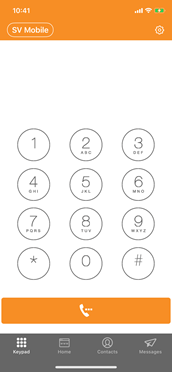 Inbound Call Settings
You can choose to change the inbound call settings to one of the following options:
Push Notifications (DEFAULT) - this will deliver inbound calls to your device even if you have closed the app.
Off - no calls will be delivered to your app.
Speed Dials/Favorites
Select the Quickdial tab to add and remove your favorites for speed dials.


Parking
If you are using this app in an office or retail location with other phones, you can set up quick access to parking spots. Set up a speed dial (Quickdial) to *31 or *32 (or *3x) to place a call in parking spot 1, 2 or x. You can retrieve a parked call by dialing this extension and you can park a call by transferring an active call to one of these spots. You will not receive any notification of the parked call on this app, however you will see it on any desktop phones that are set up with BLF keys to monitor parking spots.