How to pair a Yealink YEA-RT30 repeater
In this article, it will show you step-by-step instructions on the set up and pairing process of the YEA-RT30 repeater.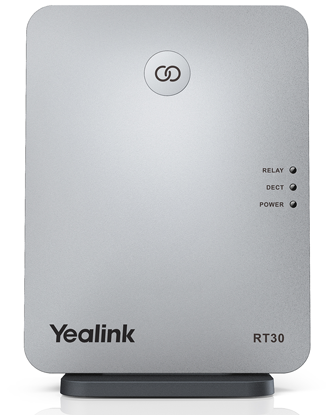 Initial set up
Connect the RT30 to a power outlet using the provided AC power adapter.

Connect the base stand with the snap-fits to the corresponding holes and push forward.
Registering the Yealink YEA-RT30 repeater
While the RT30 is plugged into a power outlet wait until the POWER LED turns green and the DECT LED flashes red.

Set the handset in RT30 repeater mode at with the path: Settings-> System Settings-> Repeater Mode.
Set the base station in registration mode (Long press the paging key on the base station till the first LED flashes green). If the base station is found, the DECT LED will flash orange.
When DECT LED turns green/orange, the registration to base station is successful. When the DECT LED is green it is indicating strong signal, while orange is weak.