SmartPBX: Main Number Call Routing
---
Set up your Main Number call routing within SmartPBX.
Your main numbers are already pre-loaded into the Smart PBX dashboard. You will need to set up an office hours strategy, set any holiday times, and set the incoming call routing.
Below is a step by step guide on how to set your main number call routing.
Login to SmartPBX
Go to admin.simplevoip.us and enter your admin credentials.
If you've forgotten your username: your username is the email address used to place your order
If you've forgotten your password: it can be updated or restored by clicking on the "Forgot My Password" link.
Need help signing in? Contact us.
Main Number Tab
Click on the Main Numbers tab on the left-hand menu to open the call flow options.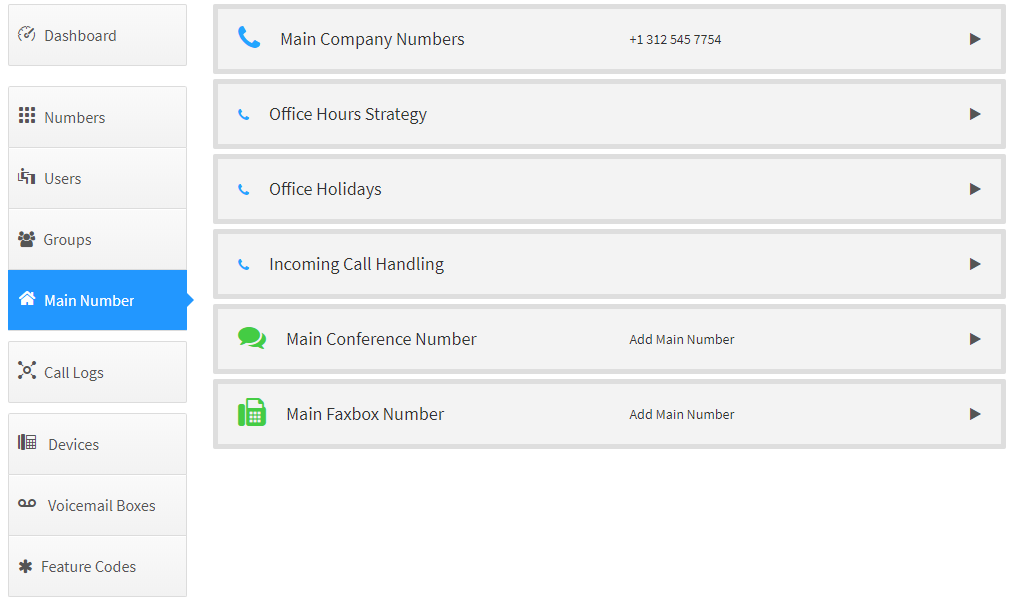 Main Company Numbers
Your primary number will appear here, assigned by default.
To add additional numbers to your Main Company Numbers, click on the orange "Add From Spare Numbers" button.
If you do not have additional numbers available, please contact us to order or port additional numbers for your account.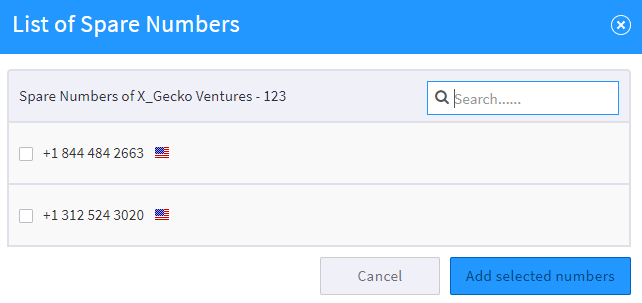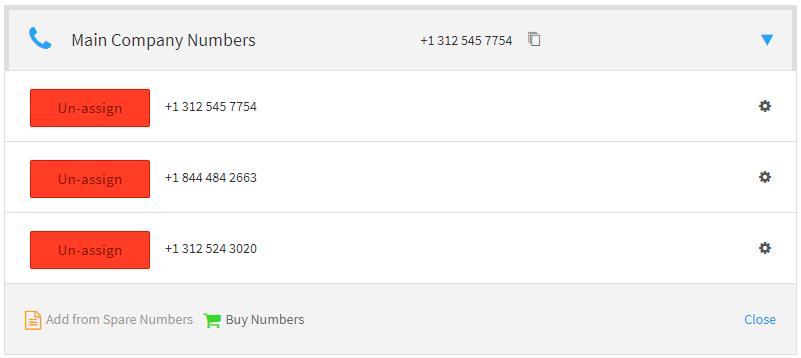 Incoming Call Handling (Auto Attendant)
The Virtual Receptionist is also known as an Auto Attendant. Auto Attendant allows your calls to be automatically answered and provides callers with an audio menu to choose which department they would like to speak to based on your recorded options.
By default, you will enter the call handling options for your open hours. You may also select how calls are handled during your closed hours and Holidays.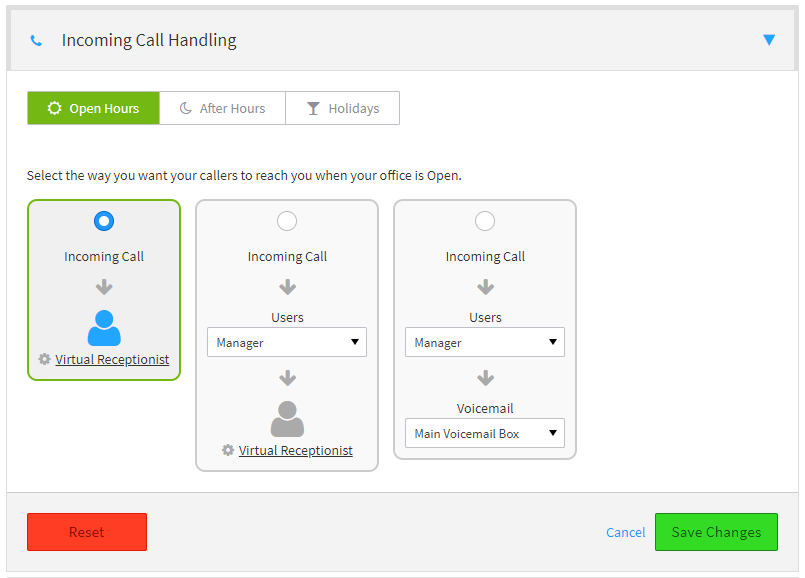 Select whether you would like incoming calls to go:
straight to a Virtual Receptionist
a User and then a Virtual Receptionist
or a User and then a Voicemail Box
You can click on the virtual receptionist options below the icon to choose from text to speech, file upload, selecting an existing greeting, or recording over the phone.
If using a Virtual Receptionist (Auto-Attendant), add call routes to contact the appropriate department or person.
If using a Voicemail, select what Voicemail Box you would like to use.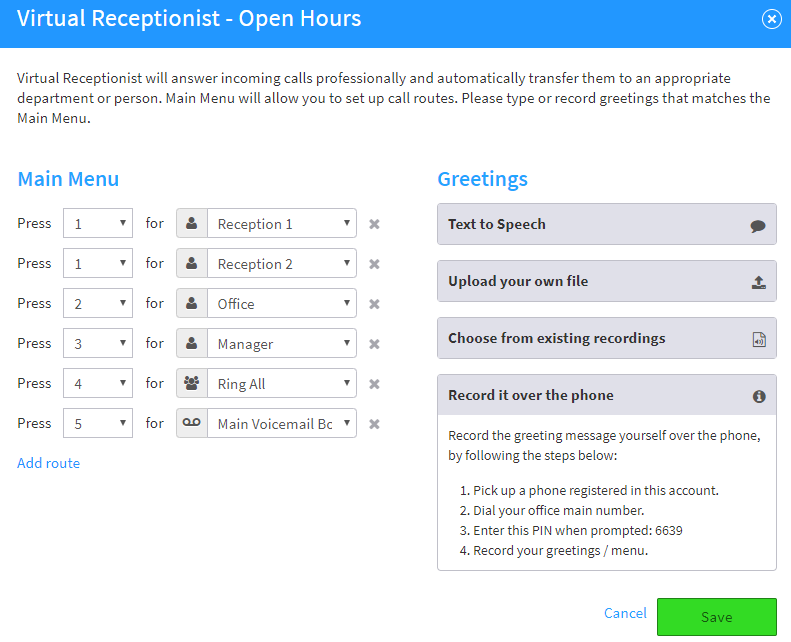 With the example above, you can see that this user wants the option 1 to go to both reception phones instead of just 1.
Keep in mind that you can ring to a specific user, or multiple users by using adding additional routes with the same key-press with different users.
Create or Choose Your Greeting
This is your Auto Attendant greeting; you get to choose what your customers hear and determine what options are available.
Text to Speech:

Text to Speech is a software that allows you to type a greeting that will result in a computer-automated voice reading the script of options to your callers. The software does its best to mimic inflection and tone, which you can help with grammar rules.

Upload your own file:

We accept mp3 or WMA files of less than 5mb in size. You may record these yourself using an audio recorder or outsource this through a 3rd party provider. The file can be uploaded and saved with the filename you choose. This is an excellent way to save seasonal promotions or regular revolving announcements from which to choose later.

Choose from existing recordings:

Once you have uploaded recordings for your Virtual Receptionist, you can change them to suit your needs. For any recordings that you no longer wish to keep, simply delete them from this list.

Record it over the phone:

If you don't have access to an audio recording device, you can call into the system and record your Virtual Assistant (Auto Attendant) recording the same way you would record your voicemail greeting.

Pick up a phone registered in this account.
Dial your location main number.
Enter the PIN when prompted.
Record your greeting/menu.