Place an Order Through the Admin Portal
This article will give step-by-step directions on how to place orders through the Admin Portal found at admin.simplevoip.us.
Login to the portal with your username and password.
Click on the purple Admin Controls button at the top of your screen.
A new window will open and you will select the New Order tab from the top.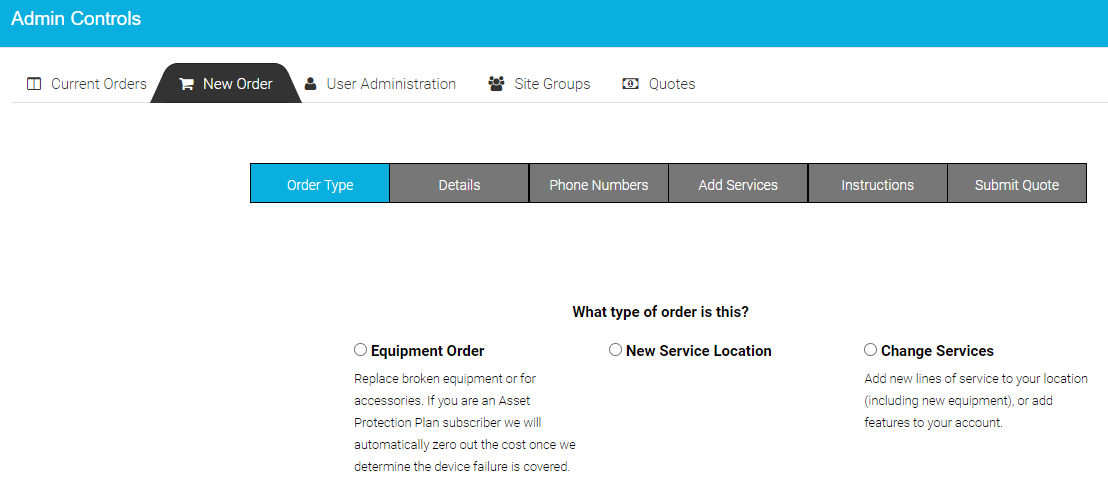 There are 3 types of orders to choose from.
New Service Location

Equipment

Change Services
New Service Location:
This is the order form you will fill out to order brand new service for your location. The step by step order will take you through address entry, selecting a new phone number or porting your existing number, as well as setting up an installation dispatch if you need.
Click on the New Service Location button
A new form will pop up requesting the site number, address, and email, and timezone.
Fill out the form and press the green Add Location button at the bottom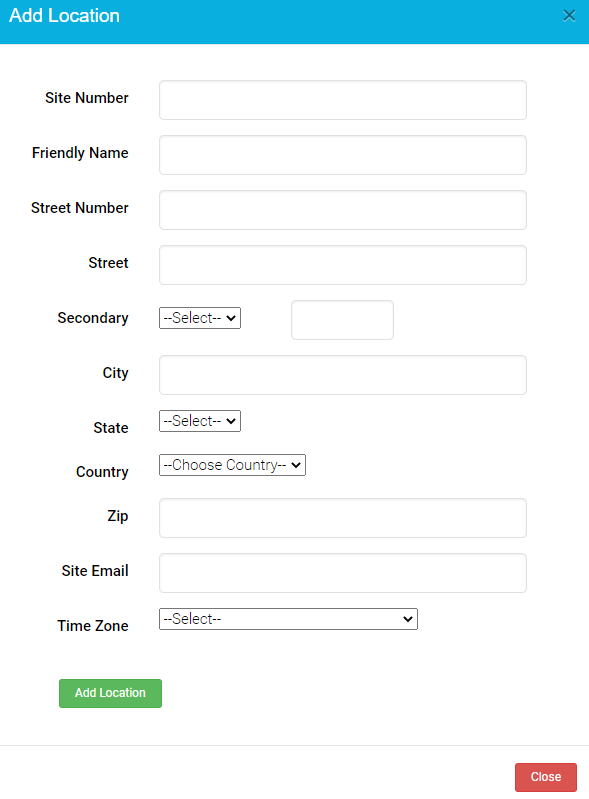 If your location is already in our system, but has not had SimpleVoIP ordered or installed, you can hit the red Close button to be taken back to the main order screen where you can select the location from a drop-down menu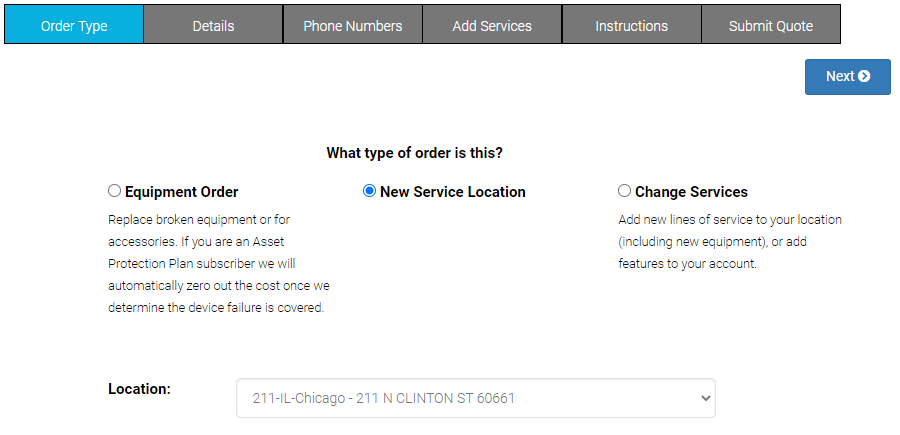 Click the Next button to be taken to the due date and shipping screen
Select the date you would like your service to begin, we will ship the equipment ahead of time so that you can install by your chosen due date
(You must select a date 10 business days or more from the order date to allow for processing and delivery)
Select the shipping method you prefer, ground is the most cost-effective as the number of phones you order may create a large parcel. You can also select 3-day select, 2-day, or overnight air.
Choose your installation method

If you select CUSTOMER you will be responsible for installing the equipment yourself or with the help of a technician you hire. For help on how to install your phones, click here
If you select SIMPLEVOIP a dispatch order will be created. Select the date you would like our technician to install your phone service. We typically install as close to 9-10 am local time. If there is a specific time or instructions for your technician's arrival, please enter them in the notes field later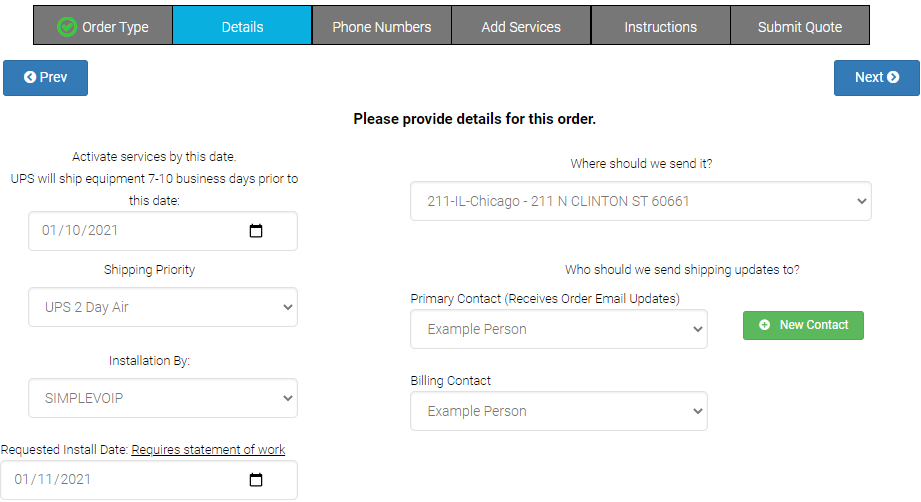 Click the Next button to be taken to the Phone Numbers tab
Select I Need New Numbers or

Port My Numbers From Another Provider

For New Numbers, select how many numbers you would like us to order for you. You almost never need more than 1 for VoIP unless you will be ordering fax service or direct extensions for multiple users. We do not charge for additional numbers, so please order as many as you need

To Port your existing number(s) from another provider simply enter the full 10 digit numbers with no dashes - or parenthesis ( ). Make sure you enter your existing Fax number, if applicable, in the fax location. If you are porting more numbers, use the additional numbers dialogue box. Enter your numbers using all 10 digits with no dashes -, spaces, or parenthesis and separate each phone number by commas.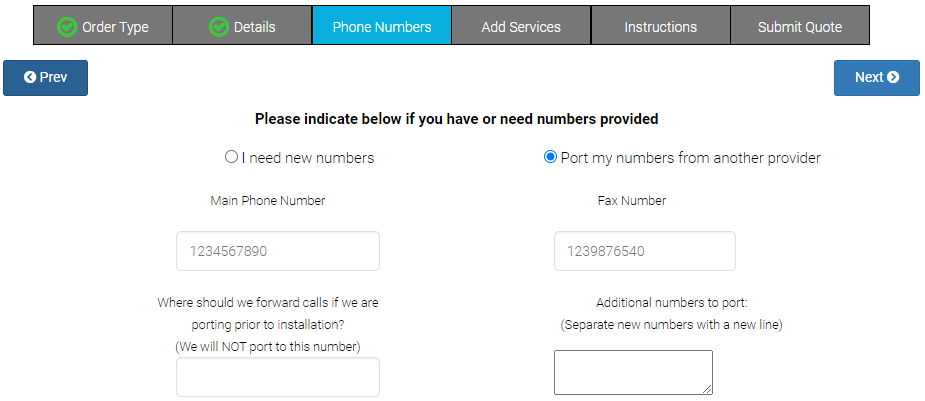 Click the Next button to order your equipment.
Choose between ordering custom equipment or Your Billing Profile

Billing Profile
Enterprise customers will almost always choose Billing Profile as this will automatically select the correct number and type of devices and service plans to match all of your other locations

Click the Submit button to select your specific Bill Profile

To confirm that the bill profile contains the correct items and services click the View Items button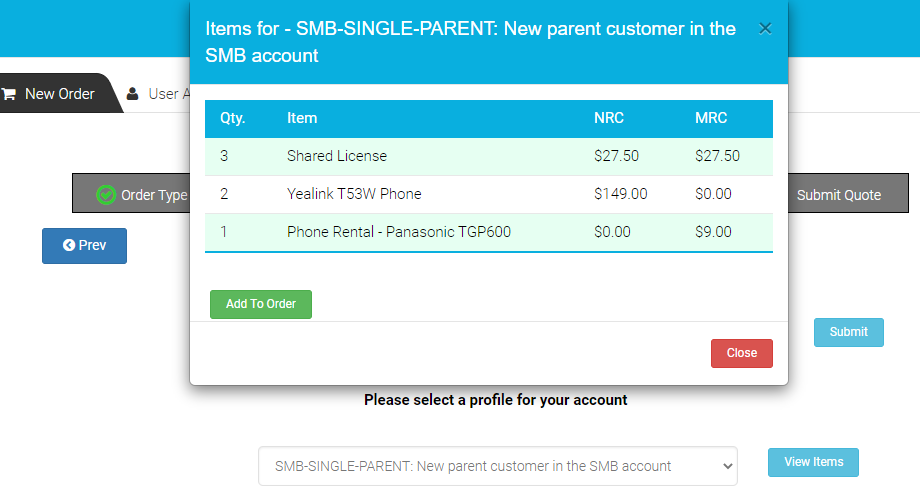 Press the green Add To Order button the close this window
Press the Next button

Custom Order
This method can be more difficult as you will need to order specific phone models, service plans, and other services for correct billing. If you know you need a custom order outside of the standard profile, we are happy to help guide you through this process by calling 855-899-8647. We will also review the order after you submit it for accuracy to make sure you have selected the correct items
Move through the tabs along the top to choose devices, accessories, service plans, etc.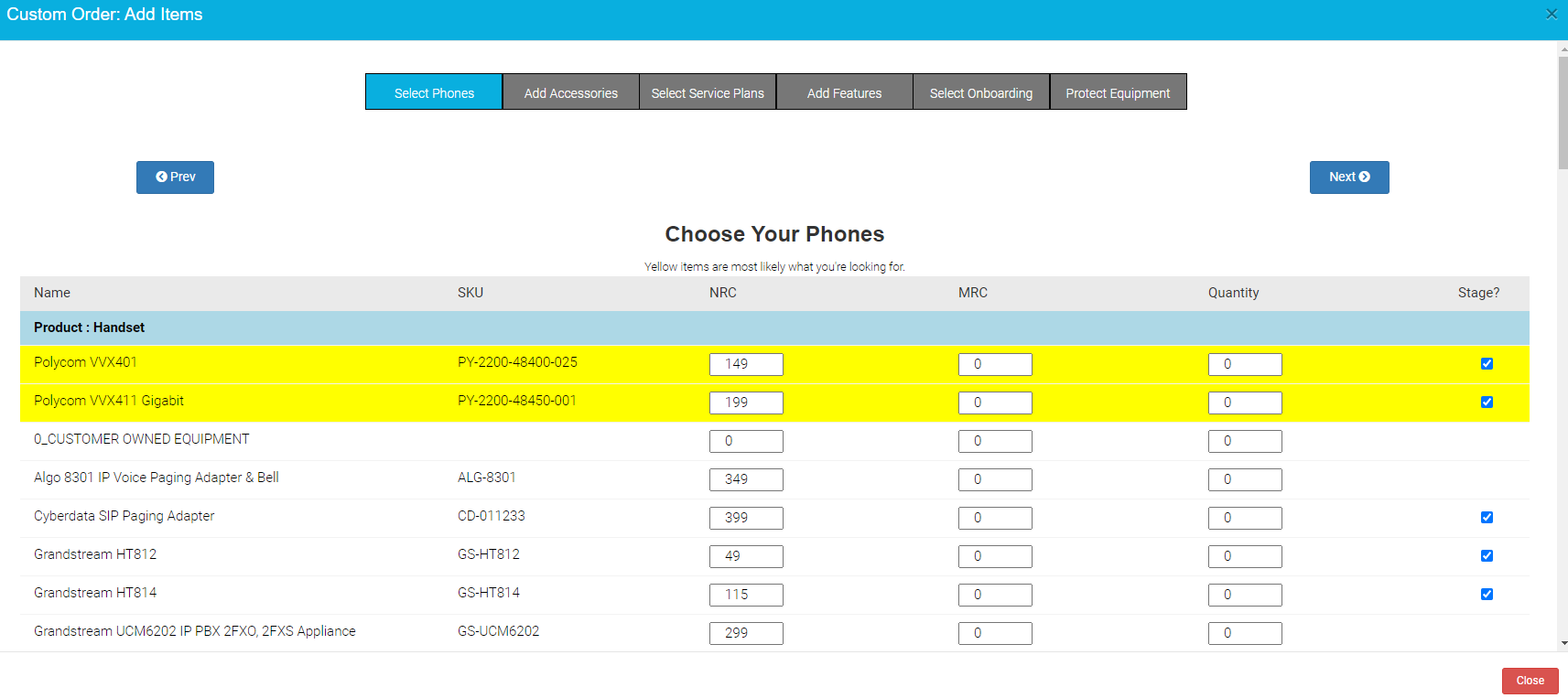 Once you've moved through all tabs and have selected the equipment and services you'd like, press the green Finalize Services button to add the items to your order
Press the Next button
Next you'll enter any special notes about this order such as instructions for your technician, the MAC address of any phone you already own that you'd like to use for this order, or special LNP instruction for the numbers you're porting

Press the Next button to reach the Submit Quote tab

Press the Finalize Quote button to be taken to a screen that will show your full order for review.
Make sure that each area matches what you are needing for your new location
On the right hand side you will fill in your name as the authorized party
You can save this order as a .pdf for your records by clicking the blue Sign Offline as PDF button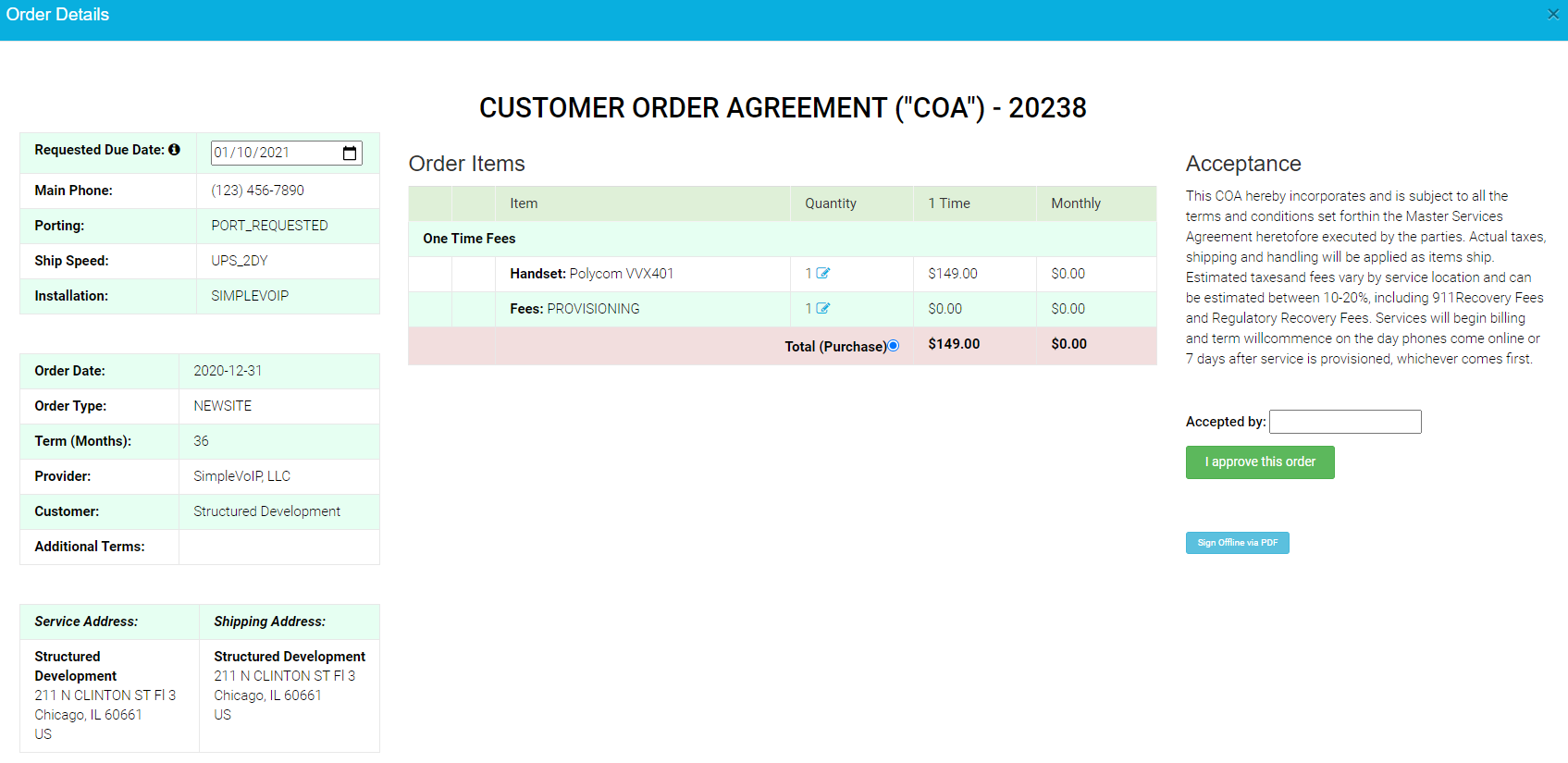 Click the I Approve This Order button and you're all done! A support member will review the order for clarity and make any necessary adjustments then send back to you for final approval. If the order looks good it will be submitted on our end and your services will be scheduled and equipment shipped
If you need your order canceled or changed, please call us at 855-899-8647 within 24 hours of the order being placed
Equipment Order:
Replace broken equipment or for accessories. If you are an Asset Protection Plan subscriber we will automatically zero out the cost once we determine the device failure is covered.
Click on the Equipment Order button

From the Drop-Down menu below, select the location you would like to order equipment for.
(If the location is not already on SimpleVoIP, you will need to process a New Service Location order)

Click the Next button