Grandstream HT812/HT814 ATA: How to Install Your Device
---
This article will help you install your Grandstream HT812/HT814 Analog Telephone Adapter (ATA) device into your current phone system.
Note: We do not support or recommend using an ATA device for modems, fire or burglar alarm lines, elevators, or any other device that could risk safety in the event of loss of power or internet.
Installation Diagram
The diagrams below maps the proper cabling and equipment required to ensure your ATA device is functional.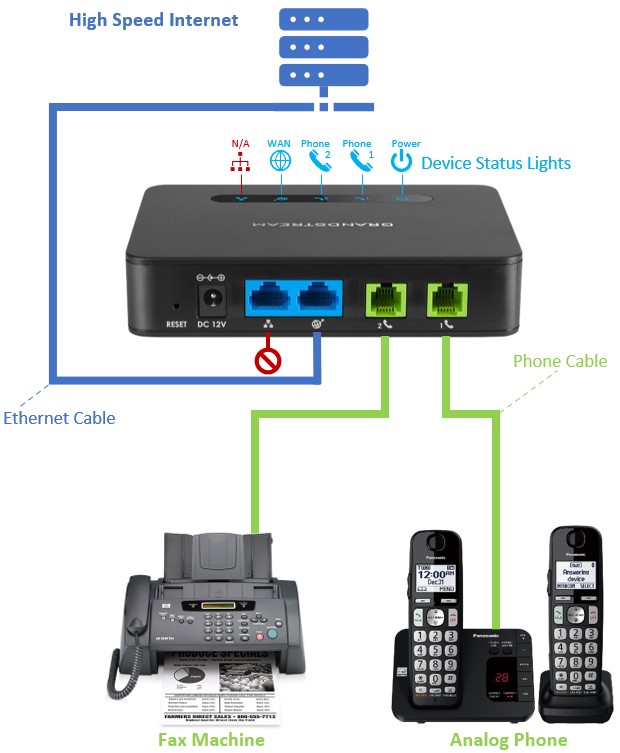 Installation Process
Please refer to the diagram above when going through the installation steps to ensure everything is set up correctly.
Plug your Grandstream ATA's AC adapter into a working power outlet.
Using the provided ethernet cable, connect your ATA from the

blue

WAN port into your high-speed internet modem, router, or switch.


Note: The WAN icon light on top will turn

blue

once the device is successfully online

Using standard telephone cables, connect your analog phones or fax machine to the corresponding line port. Your device may have 2-4 available lines and ports.


Note: Each port is assigned a line of service or its own telephone or fax number. Make
sure that you plug the correct device in for that service.

Test for dial tone and make an outbound test call. Use your temp DID available in your user portal to dial into your phones to test inbound calling.

Note: You may choose to record your auto attendant and voicemail at this time.

Call SimpleVoIP at 855-899-8647 to notify us that you'd like your service to activate and initiate the porting procedure.


Note: Use the temp DID in your user portal to forward calls from your old carrier to
your new SimpleVoIP service.
Wiring Guide
The following guides show an example of how 2 types of phone and network infrastructure would work with an ATA device. Your network may vary. For more information, you may download the Granstream User Guide attached to this article.
Network Type 1
Network 1 shows a typical network rack set in the same room as the suite "66-Block". Your analog voice lines come in from your telco through the demarc (Wall) into your Inside block then on to your suite or floor block before going to the wall jacks throughout your location.
Before ATA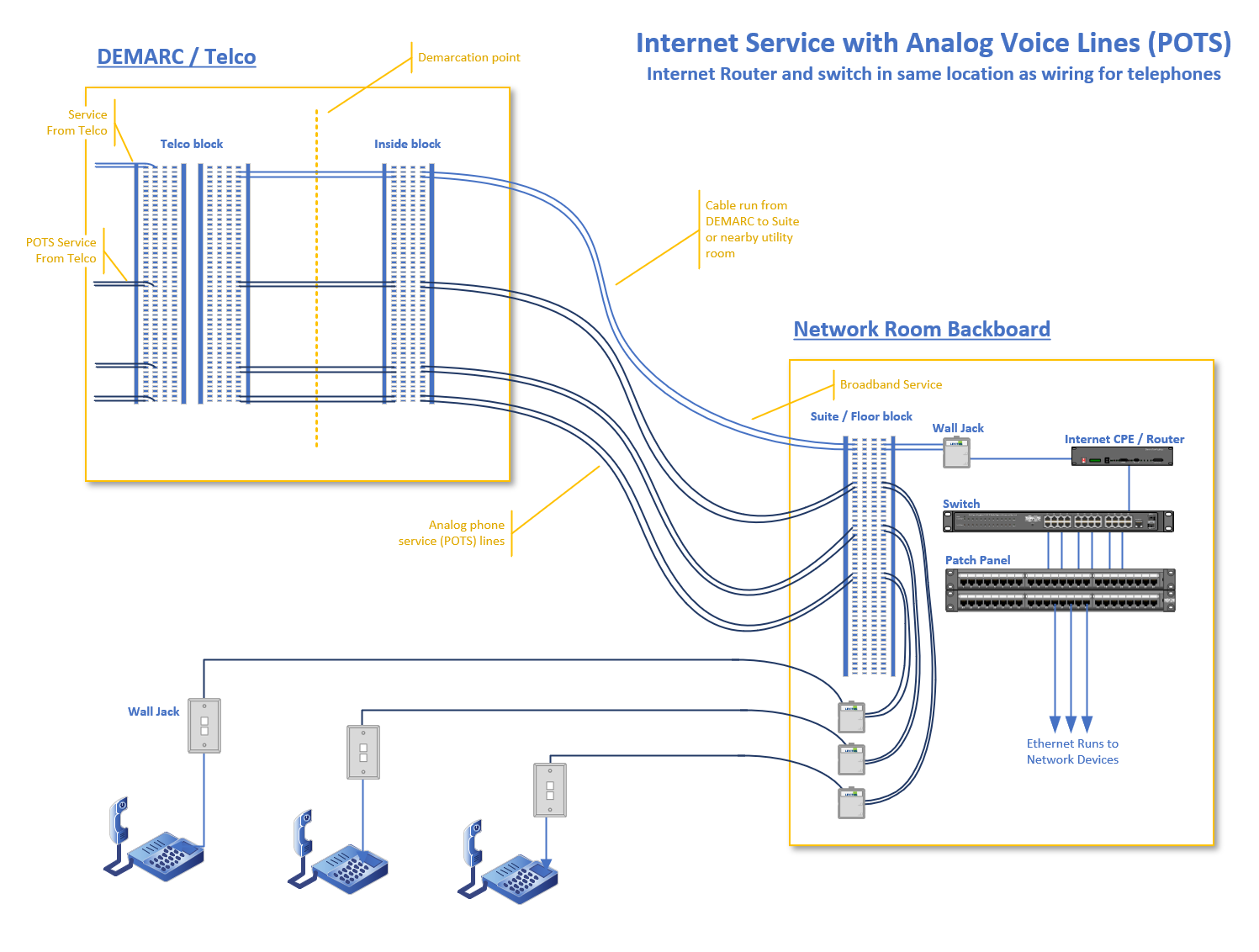 With ATA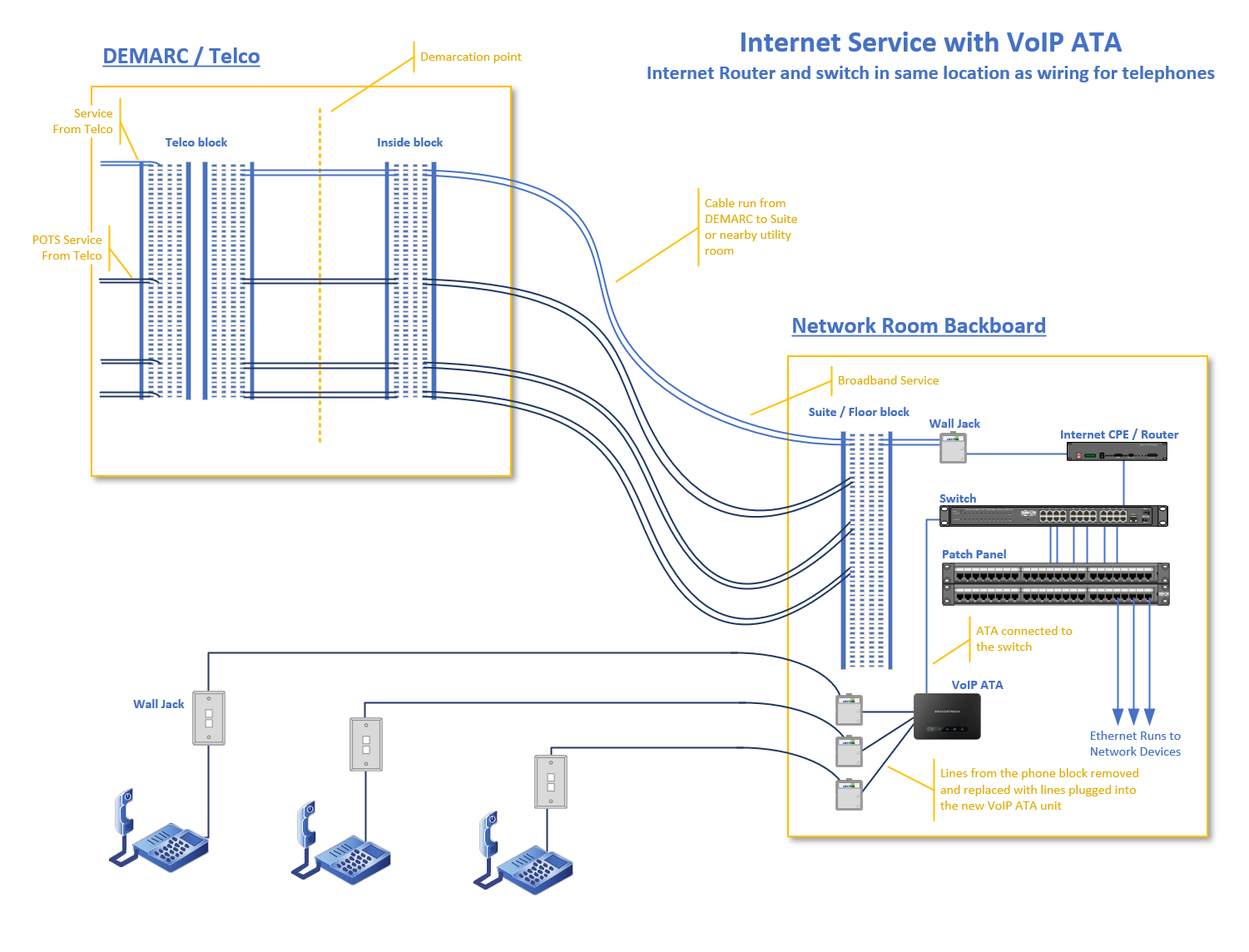 Network Type 2
Network 2 shows a typical network rack set in a separate room from the telephony "66-Block". Your analog voice lines come in from your telco through the demarc (Wall) into your Inside block, they then directly go out to your wall jacks, separate from your network room, which would likely only have a line coming in for DSL/Broadband. You will want to install your ATA using a single Cat5e line from your network room, running into this DEMARC/Telco room so that your lines feeding the wall jacks can be moved more conveniently to the ATA.
Before ATA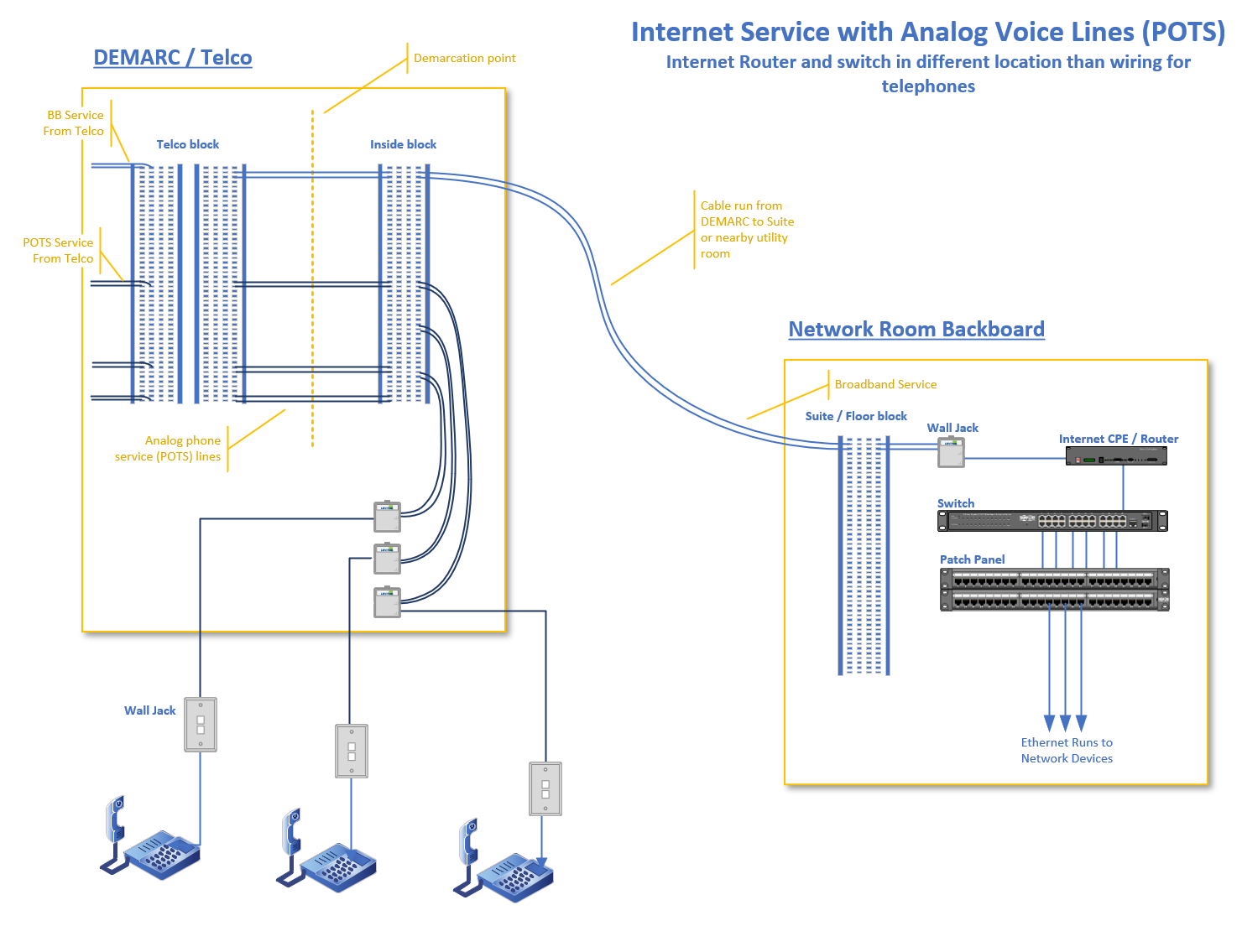 With ATA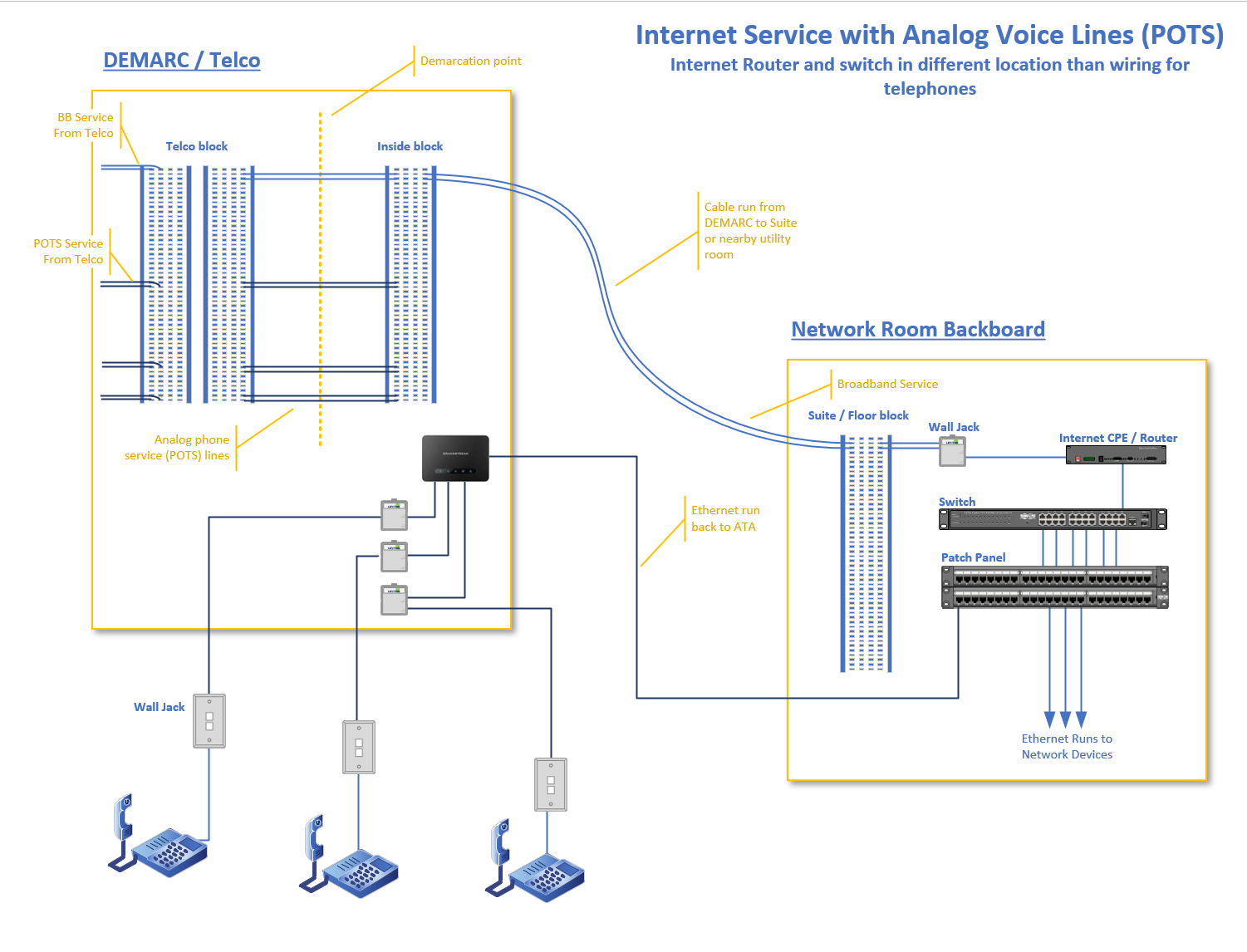 Troubleshooting
These troubleshooting steps help address issues that may arise during the installation process. If you have any issues or questions please contact our support team.
No Dial Tone
Verify the Power, WAN, and Phone lights are solid blue. If not, make sure the power cable, ethernet cord, and phone cords are properly connected.
Make sure your phone lines are securely connected to the phones.
If using a phone that requires power make sure that it has working batteries or a power adapter.
Fax Machine can not Dial Out
Make sure that your ATA is online and has access to the internet. Check your fax machine owner's manual for any error codes that may be displayed on the screen.
Call the temp DID associate with the fax line found in your user portal and listen for the fax tone. If no fax tone can be heard, call SimpleVoIP support for more information.


My Phone Lines do not have the right Connections
Some phone lines in your building may run to a block provided by the phone company. These lines are "punched down" into the block so that the copper pairs of the wires connect to the board which switches the calls from line to line. You may need to trace this line to the phone jack you want your phone or fax machine to operate from, then remove it from the block and place an RJ11 connector on the wire.
Note: You can also bypass the block and jacks by running pre butted phone
line directly from your ATA to your analogue phone. If you need technical help,
SimpleVoIP may have resources that you can hire for onsite installation.)
No Internet Access
Verify that the components in your network are powered on and showing their status is online. View your modem, router, and or switch and refer to their user guides for more information on troubleshooting those devices.