Yealink T2 Series: Installing a New Phone
---
These instructions cover installation procedures for Yealink T23G, T27G, and T29G.
These instructions are taken from the quick start guide found in your new phone's box, you can download additional .pdf copies here.
If you have any questions or need further assistance, please see the troubleshooting section for Yealink T2. You may also call or create a support ticket 24 hours a day, 7 days a week.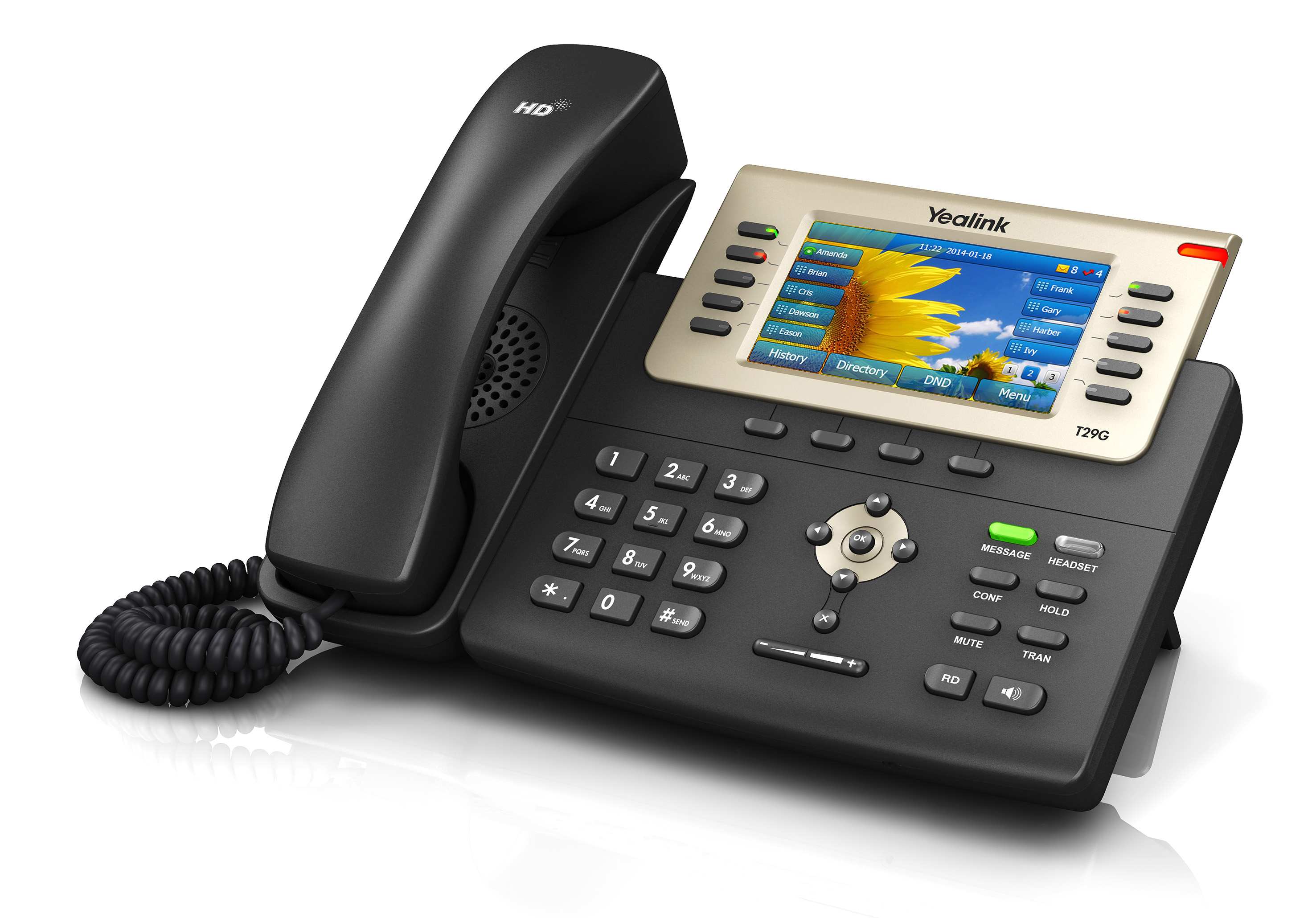 Prepare Your Network for VoIP
Verify that your network is ready for VoIP by following the instructions in our network Prep guide found here.
Installation Steps:
Install the new Yealing T27G Phones using the diagram below


For Direct Setup: Use the provided patch cable to plug into a nearby internet wall jack then into the Internet port on the back of your phone. Leave the PC port empty. If your internet drop does not provide power (PoE) then use the optional 5v AC Power Adapter (sold separately)
For Daisychained or "PiggyBack" Setup: remove the patch cable from the desktop computer's ethernet port, place that into the internet port on the back of the Yealink phone, then use the provided Yealink patch cable to daisy-chain from the PC port on the phone back into the computer's ethernet port. If your internet drop does not provide power (PoE) then use the optional 5v AC Power Adapter (sold separately)
Note: This does not deliver PoE on the PC port. These are gigabit switch ports that will pass VLAN tags and can be statically assigned to separate VLANs if needed. These phones can be wall mounted with an optional bracket (sold separately).
Verifying network connection
The phone should power up (Using POE or the AC adapter) and display the correct date and time on the phone once connected to our servers.

If the phone does not get power or network access, please double-check that you have all of your cables connected properly.
If you still aren't able to power your phone on or cannot access the internet, please reach out to our support helpline found here.

Once you have the first phone installed and online, dial 855-899-8647 and select Op. 8 to activate your equipment. You should now have a dial tone with outgoing and incoming call capabilities.

If you are porting your number: Phones will be operating off of a temporary telephone number until your number is ported onto the network.
You will need to contact your old phone provider and ask them to forward your phone number to this new temporary DID. Once call forwarding is in place, you will be able to make and receive calls over your new phones normally until your number ports.
If you ordered a new telephone number: Phones are programmed with the new number right out of the box.

Once your new phones are active, and forwarding is in place, you may take your old phones down.
Update Your SmartPBX
Login to your SmartPBX portal and follow the SmartPBX Guide to make custom personalization changes and ensure that your settings are correct for your new phone system.